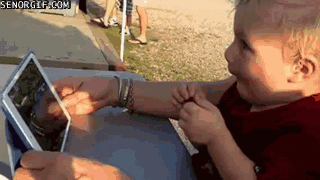 Most of the time if you hear the words iPad and toddler used in the the same sentence, it spells bad news. There is the ongoing screen time debate and enough people that worry. Despite this: a lot of toddlers do use tablets. A new British by Bredford et al. study does have some good news for us, parents, who let our young kids use touchscreens.
In short based on an online survey with 715 families responding the researchers conclude:
Using touchscreens is extremely common in UK toddlers. "The study showed that the majority of toddlers have daily exposure to touchscreen devices, increasing from 51.22% at 6-11 months to 92.05% at 19-36 months."
There is no significant associations between using touchscreens and either walking or language development. While an effect on language development could be something some people maybe would have hoped for, it's also not that bad news, as there isn't a bod association neither.
But: in toddlers aged 19-36 months, the researchers found that the age that parents reported their child first actively scrolling a touchscreen was positively associated with the age that they were first able to stack blocks, a measure of fine motor control.
Do note: this is  a correlation – again-. It's impossible to tell based on this study if using touchscreens can enhance fine motor skills, or if children with fine motor skills are more likely to use touchscreens earlier.
Abstract of the study published in Frontiers:
Touchscreen technologies provide an intuitive and attractive source of sensory/cognitive stimulation for young children. Despite fears that usage may have a negative impact on toddlers' cognitive development, empirical evidence is lacking. The current study presents results from the UK Toddler Attentional Behaviours and LEarning with Touchscreens (TABLET) project, examining the association between toddlers' touchscreen use and the attainment of developmental milestones. Data were gathered in an online survey of 715 parents of 6- to 36-month-olds to address two research questions: (1) How does touchscreen use change from 6 to 36 months? (2) In toddlers (19–36 months, i.e., above the median age, n = 366), how does retrospectively reported age of first touchscreen usage relate to gross motor (i.e., walking), fine motor (i.e., stacking blocks), and language (i.e., producing two-word utterances) milestones? In our sample, the proportion of children using touchscreens, as well as the average daily usage time, increased with age (youngest quartile, 6–11 months: 51.22% users, 8.53 min per day; oldest quartile, 26–36 months: 92.05% users, average use of 43.95 min per day). In toddlers, aged 19–36 months, age of first touchscreen use was significantly associated with fine motor (stacking blocks), p = 0.03, after controlling for covariates age, sex, mother's education (a proxy for socioeconomic status) as well as age of early fine motor milestone achievement (pincer grip). This effect was only present for active scrolling of the touchscreen p = 0.04, not for video watching. No significant relationships were found between touchscreen use and either gross motor or language milestones. Touchscreen use increases rapidly over the first 3 years of life. In the current study, we find no evidence to support a negative association between the age of first touchscreen usage and developmental milestones. Indeed, earlier touchscreen use, specifically scrolling of the screen, was associated with earlier fine motor achievement. Future longitudinal studies are required to elucidate the temporal order and mechanisms of this association, and to examine the impact of touchscreen use on other, more fine-grained, measures of behavioral, cognitive, and neural development.